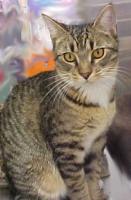 Haven for Pets is a new, all-volunteer, nonprofit organization. Many of our members have been in animal rescue 10 years or more. Our president has been helping animals for more than 15 years.
Haven For Pets is not a shelter, but rather is a group of foster homes in which all animals receive the veterinary care they require as well as all the love and attention they deserve.
You may call 330-310-1322 to learn more about our organization and our rescue efforts. Haven For Pets is a Northeast Ohio animal rescue. Additional information about the care of the animals you adopt is also available.
Thank you for visiting us online.